Jurassic World: Dominion Dominates Fandom Wikis - The Loop
Play Sound

La carte vous donne une vue d'ensemble du terrain, la position des membres de votre équipe et escouade et les objectifs du jeu.
Astuce: Utiliser la carte permet de voir rapidement si une personne repérée est amie ou ennemie. Regardez dans la direction où vous avez vu quelqu'un; et cliquez sur la carte pour voir si ils sont alliés. Sinon, cela doit être des ennemis.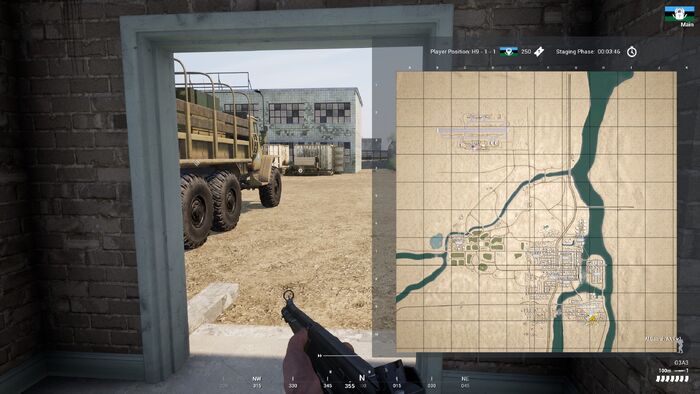 Dans le jeu, appuyez sur M pour ouvrir la carte. Appuyez sur N pour pouvoir jouer avec le zoom de la carte. Lorsque la carte est ouverte, vous pouvez tout de même contrôler entièrement votre personnage en jeu. Notez que l'écran de réapparition donne des fonctions similaires pour la Carte excepté que vous pouvez utiliser votre souris.
Astuce: Affichez la légende de la carte en appuyant sur le point d'interrogation en haut à droite.
Astuce: Vous pouvez réassigner la touche M à un endroit plus propice comme ⇪ Caps Lock. Vous utiliserez beaucoup la carte dans le jeu, soyez donc sûr qu'elle soit assez accessible pour vous.
En haut à gauche vous verrez le nom de la carte. "Asset information" n'a pas de fonctionnalité pour le moment. Mais il donnera sûrement des informations sur les véhicules à disposition.
Il est essentiel de connaître les distances de chaque carte, car la grille dépend de la taille de la carte.
Marqueurs et icônes
[
]
Sur la carte vous verrez beaucoup d'informations utiles.
Vous verrez votre personnage affiché par une flèche jaune pointant dans la direction vers laquelle vous regardez

La grand marqueurs de joueur avec un nom à l'intérieur est un Chef d'escouade. Le nombre est le numéro de l'escouade – pour plus d'informations voir Managment d'Escouade.

L'icône de joueur avec une croix rouge à l'intérieur est un médecin.

Les autres joueurs ont simplement des icônes pleins.

Les membres de votre escouade ont des icônes de couleur verte, les autres sont bleus.

Drapeaux: Les drapeaux gris sont neutres et peuvent être capturés par n'importe qui. Les drapeaux possédés par une équipe ont besoin de trois personnes pour les capturer.

Quand vous mettez votre curseur au dessus de l'icône d'un joueur son nom apparaîtera, ainsin que le numéro de son escouade, et son rôle.
Notez que la souris ne peut être déplacée sur la carte qu'en étant dans le menu de réapparition (ouvrir avec

↵

Enter).

Main Base: These are team spawn points that are alwayse available to you on the map. They are the safest, but furthest away from the fight.

Example: Milita base with an ammo crate.
When you mouse-over a CP, its name will appear. These names helps in communicating positions and situations to other team members.

Objectives: Upside-down orange triangles appear on flags your team can attack. The purple shield appears on the flags the enemy can attack.
The next flag your team can cap is indicated with this attack marker. This flag is often just called "attack flag".
The last flag your team capped is indicated with this defense marker. This flag is often just called "defense flag".

Rally Points (RPs): These are squad only spawn points. Green RPs indicate it is your squads RP and can be spawned on by selecting it. Blue RPs are not spawn able, as they are other squads RPs.

Foward Bases: These are team spawn points. You can click them to select and spawn on them. Beware, if enemies come close, the base will become overrun (turning light red) and you will not be able to spawn!
Ammo crates are shown on the map with this icon.
Tactical markers
[
]
SLs can place map marks on the the map for the entire team to see. The following types of markers exist:
Objective markers (green)
Enemy position markers (red)
To place a marker, open the spawn screen by pressing ↵ Enter, click the Right-Mouse-Button at the location on the map where you want to place a marker, then select the marker you want to place (mouse-over "PH" to show the enemy position markers). Markers will remain visible on the map for 5 minutes. Once placed you cannot remove a marker.
Objective markers (anticlockwise)

Attack this location
Scout/observe this location
Waypoint - move to this location
Build at this location
Defend this location

Squadleader actions

Delete (Trashcan icon)
Approve vehicle claim (Green vehicle icon)

Enemy position markers (clockwise)

Infantry units:

Automatic rifleman
Sniper
Light Anti-Tank
Static HMG

Vehicles:

APC
Armed vehicle
Logistic truck
Truck

FOB