TAPV

Vehicle Info

 Operators 
Canadian Army
 Maps Available 
Al Basrah, Anvil,

Belaya Pass

, Chora,

en's

, Fallujah, Goose Bay, Gorodok,

Jensen's

, Kamdesh Highlands, Kohat Toi, Lashkar Valley, Manic-5, Mestia, Mutaha, Narva, Skorpo, Tallil Outskirts, Yehorivka
The Textron TAPV is a light attack vehicle in Squad used by the Canadian Army.

General Information
[
]
The Textron Tactical Armoured Patrol Vehicle (TAPV) is an armoured car in use with the Canadian Army. The vehicle project began in 2009, and the contract was awarded to Textron Systems Inc in 2012. 500 vehicles were purchased, with delivery completed in 2017. Employed in a general reconnaissance role, the TAPV was disseminated to a number of military units across Canada, including a number of examples delivered to the reserves for training purposes.
The TAPV is powered by a Cummins QSL diesel engine, providing 365 horsepower, propelling the vehicle to a maximum speed 105 km/h. (110 km/h in real life)

Variants
[
]
There are two variants of the TAPV in-game. Both variants are always armed and carry the same amount of ammo points and passengers.(though in real life the two variants differ. The patrol variant carrying 3 passengers and the recce only carrying 2)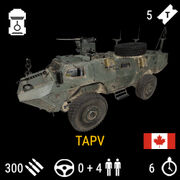 The M2A1 CROWS variant. This variant sports the same M2A1 CROWS found on the M1A2, M1126, and M-ATV M2A1 CROWS which allows it to take care of infantry and other light vehicles. The M2A1 CROWS carries 400 rounds of ammunition and has 2 zoom levels.
The C6 CROWS variant. This is similar to the M-ATV M240 CROWS and FV432 RWS. It has (x) zoom levels and carries carries 750 rounds of ammunition but can only damage infantry. ( This is the main variant used, using the Protector Dual RWS which allows it to use both the C6 and a C16 commonly known as a MK 19)
Gameplay
[
]
The TAPV is used only by the Canadian Army in-game. It is capable of carrying up to 4 infantrymen inside, but its primary purpose is light support and reconnaissance.
The TAPV is crewed by two: a driver and a gunner. They do not require Crewman kits to be able to drive and use the vehicle's armament.
The Gunner gets access to a CROWS M2A1 .50 Caliber machine gun, utilizing a powerful camera to engage targets at long range. The Gunner also gets access to two bursts of defensive smoke grenades.
The TAPV is a relatively tall vehicle, making it more difficult to hide in a treeline or behind a low-building.
As with other light vehicles, it is primarily used for scouting and light fire support. It can also take on its peers, provided it is armed with a heavy machine gun. The armor can stop small arms fire from infantry weapons but will not stop anything more powerful than them. The passengers can also be killed by attacks that penetrate the thin armor.

MATCHUPS WITH SIMILAR VEHICLES ARE AS FOLLOWS:
[
]
See also
[
]