Obi-Wan Finale - The Loop
Play Sound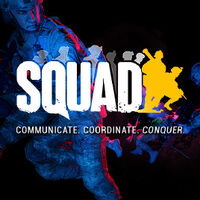 WIKI_TASK: We need nice and new showcase screenshots and videos below (purpose: promotion of Squad).
Squad is a Multiplayer only First Person Shooter that is being developed by Offworld Industries. It is inspired by the Battlefield 2 total conversion mod Project Reality. Squad became available on Steam Early Access on December 15, 2015, and was officially released on Steam on September 23, 2020.
About
[
]
Squad is a Tactical Military First Person Shooter in development on Unreal Engine 4 that bridges the gap between serious MilSim titles, and casual shooters. It will feature Combined Arms warfare on maps up to 16km², which will include land vehicles such as IFV, APC, Tanks, ground attack aircrafts and helicopters, alongside infantry.
Squad success relies heavily on teamwork and communication; featuring built in VoIP, with "Local" chat for players with a certain proximity, "Squad" chat that is focused on player within your squad, and "Command Net" chat, that is open to only squad leaders. The players dictate how the scenarios unfold with base-building and interactive environments, intuitive squad command and management tools and large-scale warfare where strategy and leadership are just as important as a quick trigger finger.
Gameplay
[
]
Features:
[
]
Major Development Milestones
[
]
The Timeline on the right (use navigation to go over the different phases) shows a simplified view of how Squad has progressed since its inception, with the table below providing more detail.
Milestone Summary

| Date | Goals Reached |
| --- | --- |
| March 2014 | Development of Squad started. |
| October 2014 | Squad was publicly announced for the first time (in PR forums, in Squad forums). |
| February 2015 | The studio Offworld Industries LLC was founded. |
| April 2015 | Squad was successfully greenlit on Steam's Greenlight (Greenlight page, Greenlight trailer). |
| May 27 to June 27, 2015 | Successful Kickstarter campaign (Kickstarter page, Kickstarter trailer). |
| July 18, 2015 | Closed Pre-Alpha launch weekend. |
| September 26, 2015 | Closed Alpha launch. |
| December 15, 2015 | Steam Early Access launch (Steam store page, Early Access launch treaser). |
| August 7, 2016 | Release of alpha version 7, which includes the first vehicles in-game (announcement, release trailer). |
| February 5, 2018 | Release of alpha version 10 with new animation system, free-look, vaulting/climbing, bipod resting, and much more (release notes, release trailer). |
| May 1, 2019 | Over a million copies of Squad have been sold (sources: press information) |
| October 9, 2019 | Release of Alpha 16.0 with helicopters added to the game (release notes, release trailer). |
| November 26, 2019 | The Beta started with the release of Beta 17.0 and is still ongoing. The beta will focus on stability and optimization, the game will be almost feature complete. |
| September 18, 2020 | Over two million copies of Squad have been sold (sources: update post) |
| September 23, 2020 | Squad left the beta and was officially released (sources: release notes, release trailer) |
Details release information can be found on the Release Versions page.
Future:
[
]
The Official Squad Website is a reliable resource for getting up to speed with the new content coming to Squad.
Details about new beta releases, playtest information, map updates, mod showcases and more can be found on the Official Squad Update Page.
A rough view of all future content coming to Squad is showcased on the Official Squad Living Roadmap and the Squad Roadmap Trello.
Localisation
[
]
Squad has localisation for the following languages: Arabic, Brazilian Portuguese, Bulgarian, Czech, Danish, Dutch, Finnish, French, German, Greek, Hungarian, Italian, Japanese, Korean, Norwegian, Polish, Portuguese, Romanian, Russian, Simplified & Traditional Chinese, Spanish, Swedish, Thai, Turkish and Ukrainian.
Screenshots
[
]
Videos
[
]
See also
[
]
External links
[
]