The SA330 is an air support vehicle in Squad. Added in the V2 Update, the SA330 is a medium support helicopter that operates within the British Army.
Statistics
[
]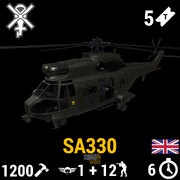 General Information
[
]
The Aerospatiale SA 330 Puma is a medium transport utility helicopter developed and built by Sud Aviation in France in the late 1960s. The Puma saw great commercial success and further derivatives such as the AS332 and AS532 were manufactured throughout the 1990s by Eurocopter. The Puma impressed the Royal Air Force and they ordered an initial batch of 48 aircraft under the designation Puma HC Mk 1. The Pumas saw extensive service with the Royal Air Force across humanitarian and combat operations, and an extensive upgrade program to bring the aircraft up to modern standards began in 2012, designated as the Mk 2. The SA330 is capable of carrying up to 20 soldiers or up to 2 tons of cargo. The aircraft is used in a variety of combat roles, including the tactical movement of troops, weapons, ammunition, and supplies on the battlefield, as well as the extraction of casualties and in response to medical emergencies on the frontline.
Gameplay
[
]
As of V2, the SA330 is in use with only the British Army.
The SA330 holds up to 9 passengers, not including a pilot, copilot, and 2 crew-chiefs (door gunners).
The SA330 carries 1200 supplies, 300 less than the Mi-8.
First Utility Helicopter in Squad to feature retractable landing gear, the landing gear retracts and extends at an altitude of ~15m.
The vehicle is armed with two M240H's on each side of the helicopter with a similar field of fire to the UH-60M.

Each M240H carries five 200 round boxes 7.62.
Flying
[
]
Gallery
[
]
See Also
[
]