General information
[
]
The Handheld Drone is a small handheld drone operated by the Commander, ready to be "deployed at a moment's notice for surveillance or other nefarious needs."
It is very maneuverable so the drone can fit through tight spaces, however it is also limited by a maximum altitude, a 10-minute battery life, and a distinct audio cue of the propeller blades spinning.
Uses
[
]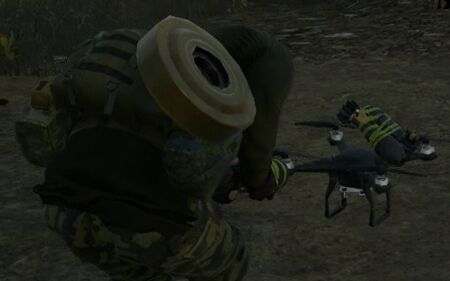 Once deployed onto the map by the Commander, it can be used to fly around and mark enemy positions with a better overview of the fight.
IEDs can be placed on the drone, creating an extremely effective vehicle-borne improvised explosive device (VBIED.)
Vulnerability
[
]
The drone is destroyed if: the battery dies, it crashes after colliding with an object, or it is shot-down by conventional methods (such as gunfire.)
Tips
[
]
If you are planning to place IEDs on the drone to create a VBIED, maximize reconnaissance potential with its 10-minute battery life before you detonate the explosives.