This article refers to legacy content that is no longer applicable or in the game.
This article is mostly kept for nostalgic or historic reasons.

This issue was introduced in June 2021 by Valve and is an issue with Steam CMD not being able to create folders that are necessary in new installs.
This problem can be diagnosed via the following symptoms:
Attempting to create a fresh install fails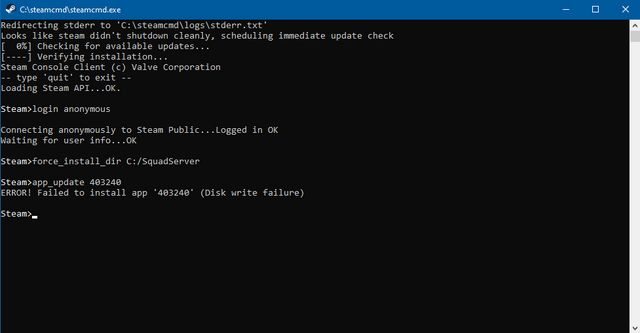 This problem has one cause:
Cause 1
[
]
A recent Steam CMD update change the folder requirements before installing a server. Not having the required folders created can result in this error.
Fix
[
]
To fix this issue you must create two folders. The first folder you must create is your server install directory. The second folder you must create is a \steamapps within your squad server install directory.
For example a user wanting to create a server located at C:\SquadServer must first create a folder at C:\SquadServer.
Then the user would need to create a folder at C:\SquadServer\steamapps.
See also
[
]