Jurassic World: Dominion Dominates Fandom Wikis - The Loop
Play Sound
This article is about upcoming content.
You can help by adding new and relevant information. The

talk page

may contain suggestions.

The ASLAV-25 is an infantry fighting vehicle featured in Squad.
General information
[
]
The ASLAV 8×8 wheeled light armoured vehicles are procured under the LAND 112 programme. The vehicles are designed to conduct reconnaissance and surveillance activities over large distances with minimal logistic support. The project has progressed in four phases.
In 1990, 15 light armoured vehicles were acquired from the US Marine Corps for evaluation in Australian conditions. In 1992, 111 vehicles were acquired under phase 2. The 2nd Cavalry Regiment was fully equipped with the ASLAV by 1997. The purchase of 144 improved vehicles was approved in phase 3.
ASLAV is manufactured by General Dynamics Land Systems Australia for the Australian Army. Phase 2 fleet was upgraded to the more evolved phase 3 standard. The upgraded vehicle is fitted with modern electric turret drives, advanced thermal sights, an integrated laser rangefinder, a second-generation drive train and new suspension parts. The new remote weapon stations were incorporated to achieve behind armour commander's weapon station capability. The vehicles were assembled by General Motors Defence Australia.
Gameplay
[
]
The ASLAV-25 is only used by the Australian Army as their primary IFV.
Weapon
Model
Caliber
Basic Load
Rounds
Main Armament
M242 Bushmaster
25 mm
M919 Armor-Piercing Sabot
70
MK210 High Explosive Incendiary
230
Secondary Armament
FN MAG
7.62 mm
2x 800 (+1)
Countermeasure
Smoke Launcher
76mm
2
The gameplay style of the ASLAV-25 is not that different from the Canadian Army's LAV 6.0. It essentially carries the same weapons, just without a pintle-mounted machine gun for the 4th passenger.
Standard crew of 3. Driver, gunner, commander. 7 passengers can be carried in the back. Driver and gunner require crewman kit.
The commander has access to a periscope that features hunter-killer functionality, granting the commander the ability to focus the gunner's cannon on a target.
It carries 600 ammo points for resupplying FOBs or infantry.
Vehicle Info Sheet
[
]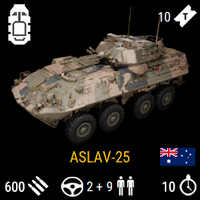 Gallery
[
]
Coming soon
See also
[
]
References
[
]